EXERCISE AT THE OFFICE
Stand up and work, feel better and live longer.
Half of your waking hours are spent at work. That is precisely why it is important that you work in as smart a way as possible, with the right equipment to make your body feel good. Research shows that we sit far too much, up to 13 hours per day. It's said "sitting is the new smoking". Despite the fact that many of us have height adjustable desks, we still sit down and work. By standing up and working, instead of sitting, you will experience many positive health benefits.
Variation is the be-all and end-all
The advantages of variation and standing up and working during parts of the day are many. The blood circulation increases, you are more alert and more productive and besides you get a better posture. A few tips to get started with standing are to start the day standing, when finishing for the day, raise your table. To stand up after lunch is also good, you then avoid the tiredness that can creep in after you have eaten.
Burn more calories – When you stand for three hours each working day for a month this equates to running a full marathon in burned calories compared to if you had remained seated.
The risk of type 2 diabetes, high blood pressure and cardiovascular disorders decreases if you stand up.
.You will better utilise your exercising if you also stand up and work.
You will be more alert and will improve your concentration.
The risk of problems with stress injuries in the back and neck decrease.
A soft mat enables you to stand longer.
A foot rest helps to relieve the lumbar region when standing.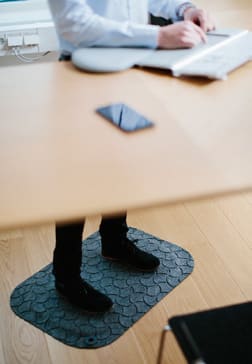 StandUp work station mat
When you work standing up for long periods, it's a good idea to take the weight off your feet with a workplace mat. The StandUp is a specially produced to distribute your weight evenly between your feet, and help you to stand up for longer without getting tired.
StandUp Hook
To make cleaning easier you can hang your StandUp on the edge of your desk using StandUp Hook.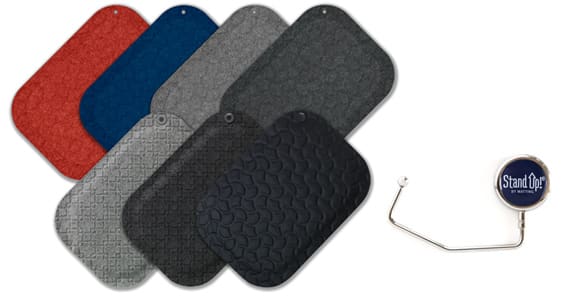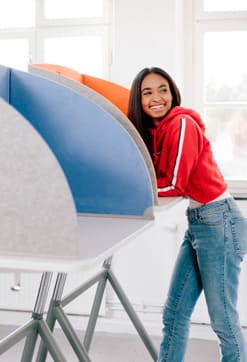 StandUp Marathon
StandUp Marathon is a mobile adapted web application that keeps a check on how many hours you have been standing up, how many extra calories you burn compared to if you had been sitting down – and the distance this equates to in an imaginary marathon race through New York. What's more, it's free! If you're on Facebook, you can challenge your friends and help each other to become healthier. Standing instead of sitting at work can result in you burning up to 400 calories extra.
www.standupmaraton.se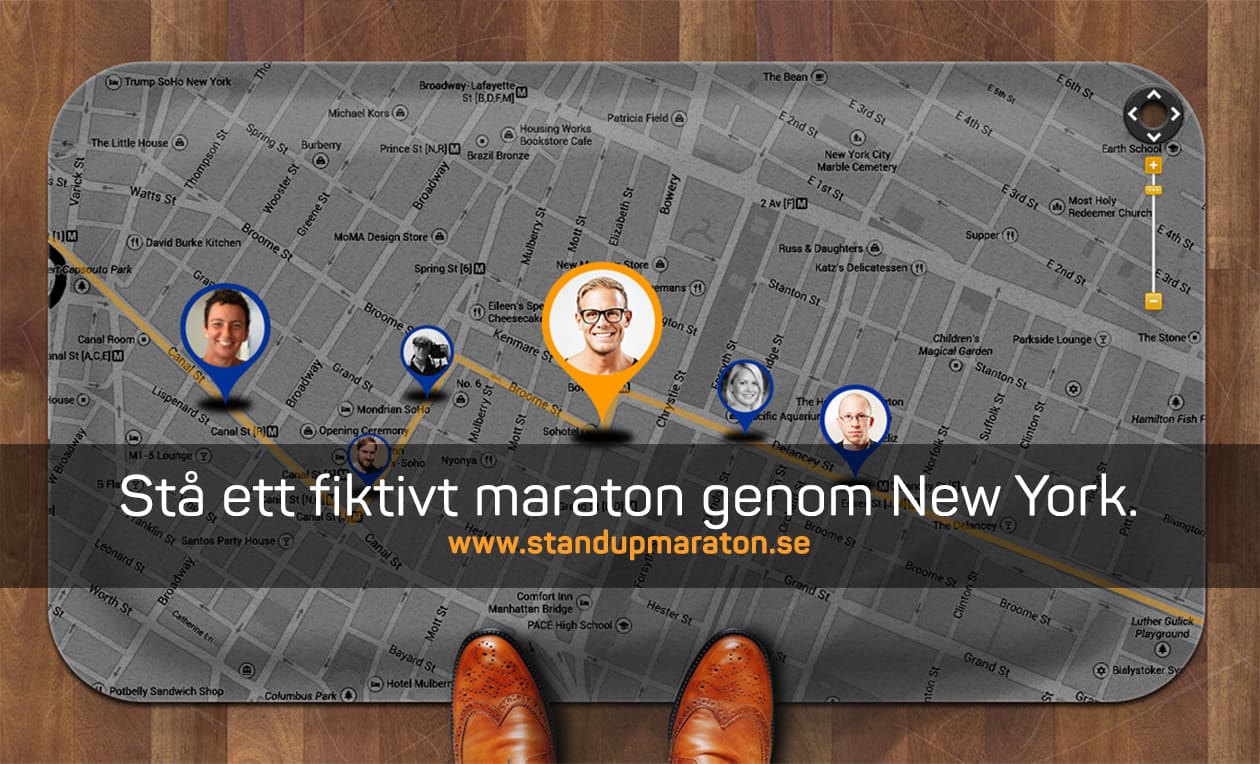 How good are you at standing up and working?
Usually it is hard to break the habit of sitting. Our free app, StandUp, will motivate you to stand up and work. You can keep track of how long you have stood and how many extra calories you have burnt compared to if you had sat down. You can then convert your calorie burn to how much this corresponds to other forms of activity such as a brisk walk, running, cycling or swimming. You can easily share your progress on Facebook.And besides the app is free!
Download the app, it's available on both iPhone and Android platforms.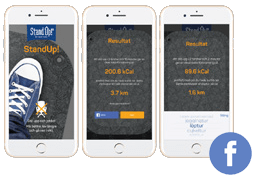 StandUp Adjustable Desk – flexible desk without an electrical connection. Suitable for both company and home offices.
StandUp Adjustable Desk can be vertically adjusted manually and comes in a convenient size making it very easy to position. You don't need to take electrical outlets into consideration and there are no cables on the floor. The desk is suitable for both home offices and conventional workplaces. You raise and lower the desk with a gas spring that is controlled by a lever on the side. The desk has two hooks, one for hanging a mat and one for a tabletop partition or a bag. The lowest sitting height is 73 cm, the highest standing height is 117 cm.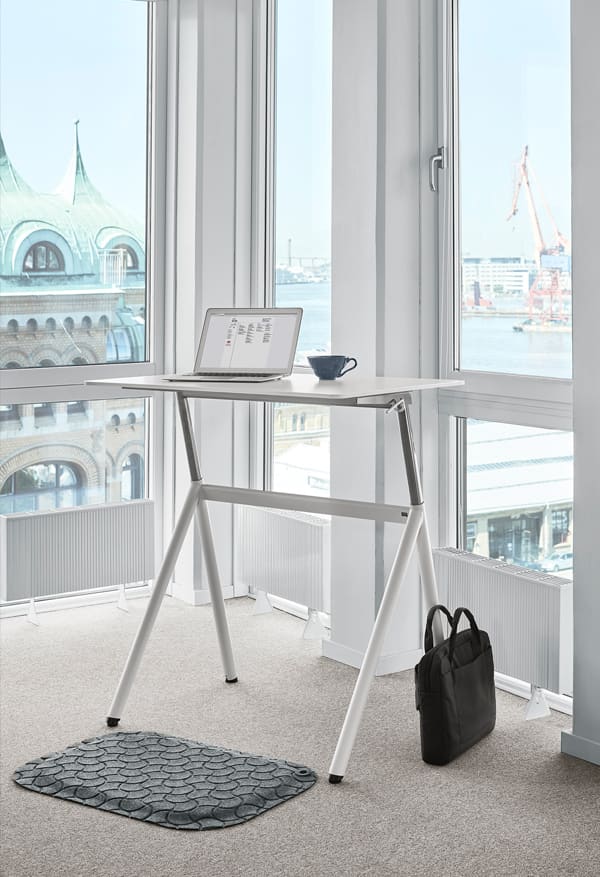 StandUp Desk screen – when you need a little peace and quiet.
StandUp Desk screen provides sound absorption and separation when you need a bit of extra peace and quiet, or seclusion, in the office. It helps to dampen sound even when not in use. Externally it is covered with a grey, lightly flecked fabric with a tufted look, internally with an alcantara type fabric.