INDIVIDUAL LIGHTING
Research shows that the right lighting makes us more efficient, more wide-awake and results in fewer days lost through sickness.
Good light conditions reduce the risk of unnecessary disorders such as headaches, and pain in the neck and shoulders. This is because the body tries to compensate for poor light conditions by tensioning the muscles. Asymmetrical lighting provides targeted light distribution, for the best light, the lamp should be placed to the left for a right-handed person and vice versa.
Easy to choose the right work lamp
In our range of lighting, LightUp by Matting, we have ensured that all the demands made on a professional workplace lamp are met.
The right lighting makes us more efficient, more wide-awake and reduces the cost of absenteeism due to illness.
92%* of gainfully employed Swedes consider the lighting at their workplace to be important in order to feel good at work. Inferior lighting frequently involves an incorrect working posture, at times resulting in back problems. With good lighting you can work with a correct posture. Poor lighting can also result in tiredness and headaches. The right strength, free of glare and flicker can make it easier to work.
Read more about what the Swedish Work Environment Authority says about light and lighting here!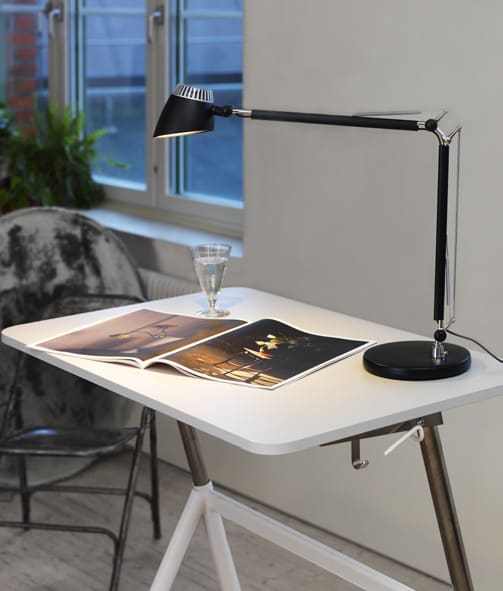 When you choose a LightUp work lamp you can always be sure that:
It is a LED lamp with good quality light emitting diode, the lifespan is always 40-50,000 hours and has a flicker-free light.
It offers high operating reliability, is very durable and has very low power consumption.
Illumination is always at least 900 LUX at 40 cm distance (in most cases more), which is the lighting industry's requirement for a satisfactory workplace lamp.
The light source is always included and the wattage is indicated on the packaging.
The colour temperature, warm white light or daylight, is always stated on the packaging.
It is both safety and environmentally approved.
Colour reproduction(Ra) is good.
Available in different sizes with different arm lengths, making it easy to find an appropriate lamp.

Suitable for a small table. Suitable for a large table
Always comes with a 2-year warranty.
*Source: Survey conducted by Novus on behalf of the Lighting industry.