A SMARTER WAY OF WORKING
Jobmate Roll bar – instead of painkillers
We are spending more and more time at the computer. And more and more of us are suffering from problems with pain in the back, neck, shoulders and wrists. That's why we've developed Jobmate - an ergonomic mouse that lets you work precisely how your body wants to. This means that you avoid pain and perhaps even time off sick in the future. Put simply, it's a smart solution to an unnecessary problem.
Right working posture
Pain in back, shoulders, arms and wrists is the result of static work. Using an ordinary computer mouse primarily entails two problems. You keep your arms extended out from your body, which increases the load. Furthermore, it is difficult to vary your working position. A smarter way is to keep your arms close to the body and use one or both hands when moving the cursor. You then obtain a relaxed posture and can moreover simply change working position. This reduces the static load and enables you to work more effectively. But above all, it makes you more healthy – both at work and at home.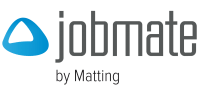 Jobmate prevents and lessens pain and strain in the wrists, arms, shoulders and neck.
You work centred with your hands close to the keyboard, resting on the wrist support. It is simple to vary your working posture and the roller bar allows you to control the cursor with one or several fingers at the same time. For example, you can have both hands on the keyboard while simultaneously controlling the mouse. Jobmate is easy to use and you will quickly learn the 5 button functions. Jobmate has a very responsive and precise roller bar. The length can be adjusted if you prefer a larger control surface by removing the cover at the right side of the roller bar. Jobmate fits all keyboards and has a wrist support that can be wiped clean as needed.
The rollerbar controls the cursor with one or more fingers at a time. For example, you can have both hands on the keyboard while controlling the mouse at the same time.
With Jobmate you work centred with hands close to the keyboard. Just like your body wants to.
Hold your arms alongside your body and your forearms angled straight towards Jobmate. It reduces the static load on neck, shoulders and arms.